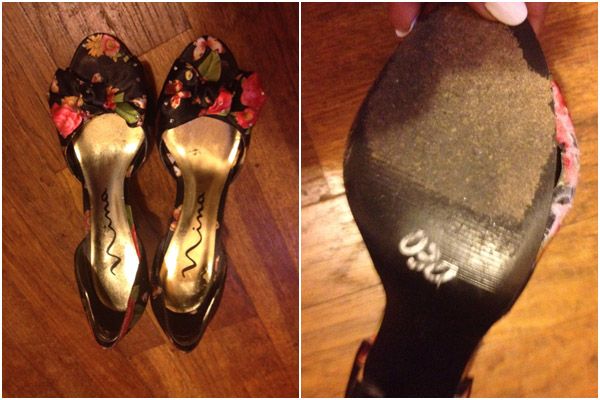 About a week ago, I finally had the opportunity to go browsing in a vintage/thrift/gag/gift store called Reminiscence, on E. 23rd St. in Manhattan, that I've been trying to hit up for a few months. I recommend that you experience Reminiscence if you're in the area because it's one of those stores that's almost like a museum, meaning you never know what you'll find. I was about to walk out empty-handed when I spotted the above Nina beauties, a pair of floral-printed D'Orsay peep-toe pumps that I just had to have.

Luckily, the shoes were my size and looked almost brand new (all the damage to the sole was courtesy of moi after a few wears, which goes to prove that it's best to protect your soles with rubber from the cobbler). So I quickly tried them on, knowing that the $18 price was too good for me to pass these up. But I committed the most cardinal sin in thrifting and vintage shopping -- my friend Patrice behind Looking Fly On A Dime would be ashamed, especially because I honed my thrifiting skills under her tutelage -- I didn't thoroughly inspect the shoes for damage.

Fast forward to five days after I bought the shoes. Eventually I admitted that the shoes were too narrow for my "Flintstone feet," as my cousin has described them, but that certainly wasn't going to keep me from wearing them. My feet have been through a lot of abuse and I don't plan on wearing sensible shoes any time soon. So, I was walking the 10 blocks from my office to the express bus. And at first my left foot was killing me, but then it suddenly got more comfortable. And was that a welcomed breeze I was feeling on my pinky toe?! Something told me to check the outside of my left peep-toe, and sure enough there was a big ol' hole developing where the fabric had pulled from between the sole and insole. I doubt that my foot caused all this damage alone and I think there was already damage at that location, which is probably why they ended up in Reminiscence in the first place.

With nowhere to buy a pair of flip-flops and new shoes were totally out of the budget question, I called up my homeboy Chef, begging him to purchase a pair of flip-flops and meet me at the stop where I get off. He agreed and I continued walking to the bus stop and waiting. I was also hoping no one would notice the hole and scuff marks on the fabric as I still tried to maintain my flyness. I decided acting as if nothing happened was the best way to play this potential embarrassing moment.

But I was still crushed these shoes that I had instantly fallen in love with had made my fashion world crumble. What about all the outfits I had planned for these Nina shoes?! I guess I could get them fixed, but then I'd always worry the same thing would happen again ... I guess this love affair will just end tragically.