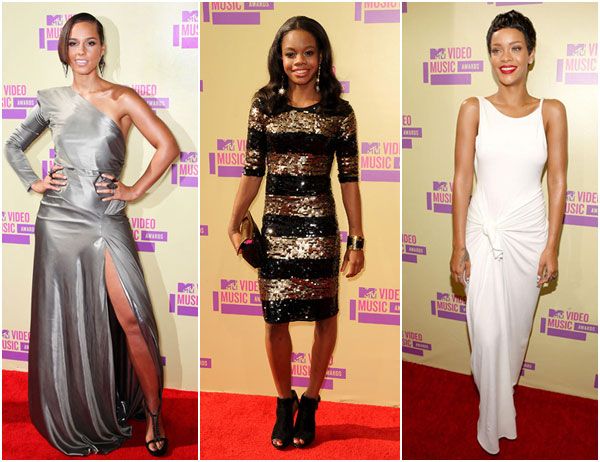 We've got opinions on celebrity style and we know you've got some too. Fetch Or Reject is where we can share our love and gripes with red carpet and celebrity fashion.
The nominees and performers at the
MTV Video Music Awards
were on many minds last night, but today we're talking about style. Find out whose look we'd
Fetch Or Reject
after the jump.
Annika:
I thought Rihanna had tried every hairstyle imaginable, but girl knows how to keep the public on its toes. I really like this cut! But, boy, does she look ho-hum in the T-shirt, jeans, and kicks pic! With a boy-inspired cut like a pixie, Rihanna needs to play up her sex appeal. The all-white look is really simple and reminds me of Linda Evangelista back in the '90s, but let's face it, the best thing about Rihanna is that she's good to look at and simple can get boring really fast.
The Verdict: Fetch the pixie cut. Reject the looks and raid Rihanna's closet instead.
Misha:
Leave it to Rihanna to constantly reinvent herself with a different hairstyle—this time around she's sporting a crop 'do. As a lover of short hair myself, I actually love the cut, but am a tad bit underwhelmed for some reason. Rihanna has a great face allowing her to be able to pull off the gamut of hairstyles, but for her this just doesn't feel new to me. As a jeans and T-shirt kind of girl, I can totally get with this casual look. Some days you just want to be comfortable and turn the glamour off, I get it!
For the VMA look—she chose to keep it simple, which I am a fan of, but I have to agree with Annika that it does look a bit boring. Rihanna, I wanted just a teeny, weeny, bit more girlie!
The Verdict: Eh, Fetch the hair with the jeans and T-shirt. Reject the VMA red carpet look.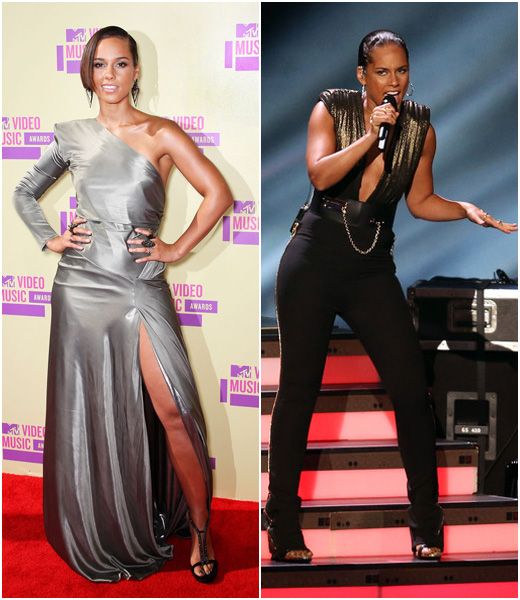 Annika:
I am digging the drama and edge of the pewter gown ... too bad it looks rumpled on Alicia's extremely curvy frame; satin and iridescent fabrics are really difficult to wear if you plan to do more than look like a mannequin. Her pose is doing absolutely nothing helpful! Looks like Alicia saved the drama for the red carpet and went boring during her VMA performance. Basic black and gold ... *yawns* how boring? And just want I'd like Alicia's stylist to fit a pair of pants properly -- give those hips some room! I do love how beautifully bronzed Alicia's skin looks though, but arriving to the VMA's naked wouldn't have gotten her any positive attention.
The Verdict: Reject the pewter gown until Angelina Jolie gives lessons on posing in a high-slit gown. Reject the performance look because there's loads of more style out there.
Misha:
Having had the chance to work with Alicia Keys way-back-when for a hair magazine photo shoot, during a time when she only wore pants, I must say that I am always happy to see her in a gown. But the red carpet look altogether was a bit boring for me. I do love the silvery pewter color on her. Alicia doesn't look comfortable in her performance outfit, and that's a big problem for me—it's almost there but not quite. The pant needs to be hemmed about a half-inch, or a different shoe needs to be worn—the bunching around the ankle area is just not working for me. Hmmm. I'm still trying to figure out just how I feel about her newly short coif.
T
he Verdict: I'm going to have to Reject both looks.
Annika:
I never like Nicki's complete looks and don't even appreciate her experimentation because at this point it's just normal for her. I mean, how many catsuits can one woman wear in a week?! I hope she gets a Monistat endorsement soon...
The Verdict: Fetch the studded pumps and cabbie cap. Reject the catsuit.
Misha:
Oh Nicki! I get it, you want to be different and represent for all the Barbs in the world. Sigh. While I don't love or like this look on Nicki, Nicki is going to do what she does, and that's push the style barriers, so I can't really say I absolutely hate it. I think I've hated worst looks on her.
The Verdict: Yes! Fetch the hat and shoes! Reject the lace faux corset catsuit—unless you are Nicki.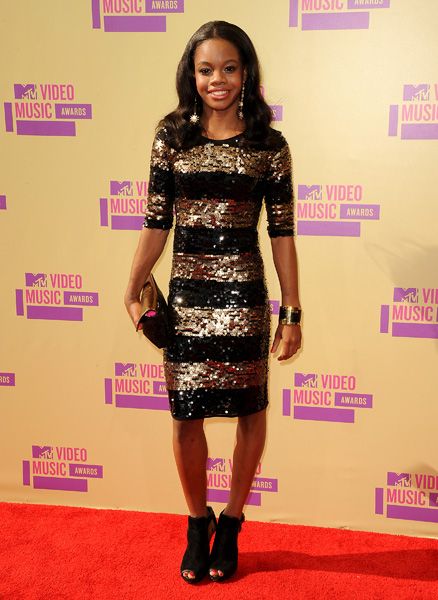 Annika:
It's remarkable that Gabby Douglas seems to be parlaying her Olympic Gold into other avenues of athletic fame. She can't be a gymnast forever, you know, especially since she's reached the pinnacle at a young age. This sequin black and gold stripe dress was age-appropriate but still festive. However, as a short girl myself, I know she would have benefited from a shorter hem ... about two inches.
The Verdict: Fetch the look but visit a tailor first.
Misha:
Still gushing over this young lady's success at the recent Summer Olympics. Gabrielle Douglas, as she told Oprah she prefers to be called, looked great. Both on the red carpet and while performing with Alicia Key's, this
Fab Chick
showed that she really is a "Girl On Fire." The gold and black striped sequined dress along with the sequin top and leggings were a great choice for her—I loved it!
The Verdict: Fetch both looks. And yes, about an inch shorter would have been even stellar!
Annika:
I expected him to come harder, suaver, and more sophisticated than that.
The Verdict: Reject, reject, reject.
Misha:
I know it's not the Grammy's but I'm thinking about the many ways Frank Ocean could have stepped it up a little more.
The Verdict: I'm Rejecting this look. But I did enjoy his performance; I guess I just love his voice.
Annika:
It's funny, but there's a whole lot going on and nothing at all at the same time in both of these looks. It's a nod to the break dancing era, which I can respect. The only problem is that kids will try to copy these looks in feel and flavor and will probably fail miserably!
The Verdict: Reject because there's too much room for error.
Misha:
I have nothing to say. Well ... I do like Tyga's leather tank top.
Let us know below which looks
you'd
Fetch or Reject!