Wow! Can you believe summer is pretty much over?! Yeah, neither can I. Although I love living in a place where there are actually four seasons, I'm always looking forward to summer and dreading its end. There's just something about the sunshine, the twilight, the late nights, the skin-exposing clothes, the smell of NYC garbage ... OK, that's one element of summer I do not enjoy, but doesn't it just seem like the possibilities of life are more plentiful in the summer? Maybe that's at the heart of my love affair with summer in New York ...
Although ankle boots, knits, and long pants are the style horizon, I'm still reliving summer. And what better way to do that than to revisit some of Misha's and my favorite looks from the summer?


She and I are definitely on the same page regarding how we feel about the warm months. Here's what she'll miss and our favorite looks:

"I am usually my most happiest during the summer months. I love the sunshine, the warm days, and the balmy nights. There's nothing like throwing on a pair of denim cut-offs, a tank top, and taking a walk to get ice cream to cool off--ah, I'll miss all the fun that summer brings."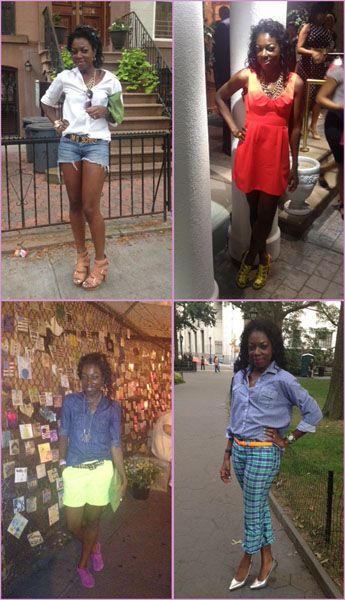 Cutoffs:
This is probably my signature summertime look. I like to keep it super simple in the summer and use accessories to amplify my look. If I could, I would wear denim cut-offs and a white shirt, or grey tee everyday of the summer.
Orange dress:
Any chance I get, I love to play with bright colors, and since this summer was all about neons, I took any opportunity I got to play with the fluorescent hues.
Yellow shorts:
I always need to be comfortable and this outfit was just that! Boyfriend shorts and oxfords and I can roam the city all night!
Plaid pants:
Summer is about having fun, so why not rock a mash-up of prints for a charming look? I love these Moschino pants! They're loads of plaid fun!
Cutoffs:
Every girl needs a pair of denim cutoff shorts in her life because they're the easiest thing to throw on and are the epitome of sexy American style. (Yes, I'm feeling patriotic after hearing my First Lady's speech at the DNC last night.) But the stars of this look are my Aldo Rise sandals, which were love at first sight. It's funny how a sexy pair of heels can elevate a sweatshirt and cutoffs combo.
Graphic print skirt:
Rarely do I wear head-to-toe designer because it's not necessary. This Mint by Jodi Arnold skirt pairs well with low-end items, like the American Apparel tank and red B. Makowsky bag.
Midi skirt:
I'm channeling Carmen Jones (not her look, but personality) with this skirt that only cost $10 and H&M corset-style top that I've had for forever. I usually invest in well-made shoes and have been riding with these Just Cavallis for three summers now.
Peplum top:
Here a peplum, there a peplum, everywhere a peplum. Folks always think that this sea foam green top is designer, but it's actually H&M. (Yeah I was having an H&M moment back in June.) I had been hunting for a boat hat for a couple of summers to no avail. Then, I happened to find one in H&M -- sadly though, it's about half an inch too small.